I was honoured to be invited to attend the recent INSIGHT 2022 event organised by Convergence Energy Services Ltd in Delhi and speak on a panel. The event was sub-titled; 'International Conference on Sustainable and Innovative Finance for Green and Healthy Transportation'.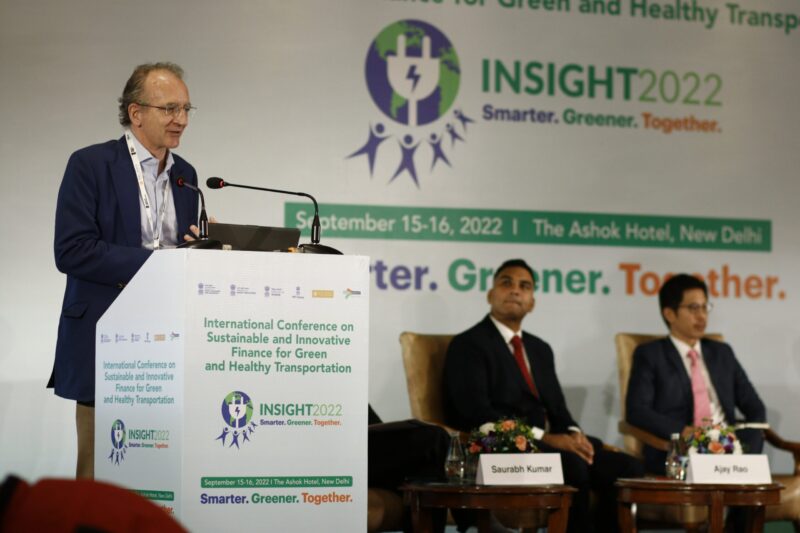 India is committed to decarbonisation and having achieved a lot in scaling energy efficiency and renewables and is now turning to focus on e-mobility. Convergence Energy Services Ltd (CESL), a subsidiary of publicly owned Energy Efficiency Services Ltd (EESL), (with which EnergyPro – part of the ep group – has a JV in the UK), recently ran a tender for 5,450 e-buses, the world's largest e-bus procurement exercise.  CESL aggregated demand across five cities and standardised tender conditions to procure e-buses on a Gross Cost Contract (GCC) basis. Developing the tender required active consultations between transit agencies, all with their own specifications, e-bus manufacturers, financiers, Ministries and government agencies. For comparison, in Europe there are about 10,000 e-buses.
Demand aggregation increased the tender size to 5,450 buses in lot sizes of 465 to 1,500 as opposed to the smaller lots of 300 buses helped OEMs achieve economies of scale.  Daily running requirements of 200 km per day, or 70,000 km annually, also helped lower the bidding rates. Batteries account for c.40% of the cost of an e-bus. An assured time of 45 minutes between bus operations allows opportunity charging which meant batteries could be smaller, which helps to reduce costs.  Electricity and labour costs were benchmarked to ensure transparency in the bid rates.
The demand aggregation led to a 30% reduction in the bidding prices of the Grand Challenge for 12m AC e-buses compared to GCC rates for CNG fuelled buses in Delhi. For 12m low floor non-AC e-buses are around 35% lower than the rates for 12m standard-floor non-AC CNG buses.
The 5,450 buses under the Challenge are expected to operate around 4.7 billion km over 12 years, saving 1.88 billion litres of fuel and resulting in a reduction of tail-pipe emissions of 3.31 MTCO2e.
The Grand Challenge results are an important lesson for other countries or regions looking to electrify public transport. The approach used by CESL seems to address the four elements of what I call the 'the jigsaw of energy efficiency finance', a simple model I developed a few years back after reviewing the global experience of scaling investment into energy efficiency. The jigsaw has four pieces:
Develop pipeline through
more attractive business models
Building development and aggregation platforms
Standardisation of
development process
technical solutions
contracts
systems & under-writing
Provide finance
project development finance
long-term project finance
Build capacity in:
demand side
supply side
financial sector
To achieve scale all four pieces have to be put together.
In the Grand Challenge the pipeline building and standardisation pieces were performed by CESL, acting as an aggregator of demand and catalyst for getting everyone to agree the standards.   Development finance was provided by CESL who were effectively acting as the project developer in this case. Finance for the 5,000+ buses came from the suppliers. CESL were the all important 'transaction enabler' to get all the pieces together. CESL also worked to build capacity on the demand side, the supply side and the finance side, something that is continuing.
Given the success of the Grand Challenge a target has been set by Prime Minister Modi of procuring 50,000 e-buses by 2030 and at INSIGHT 2022 there was talk of doing more and tendering 500,000. India has 1.8 million buses of which 140,000 are owned by SRTUs (State Road Transport Undertakings).  Electric buses can reduce operating costs by 50% but the buses cost 2-4 times a conventional alternative. Purchasing e-bus services for a 12 year fixed contract reduces the financial and operational risks of bus agencies considerably.
The next stage of the challenge is to work how to finance the larger number of e-buses needed to really scale-up. This will require international capital and probably involve a separate agency with some form of blended capital, carbon finance and with derisking tools such as guarantees to bear some of the risks involved.
CESL's Grand Challenge is a world leading example of the power of aggregating demand which has scope for replication in different areas including e-mobility and energy efficiency. Huge congratulations to CESL for getting the world's largest e-bus tender completed.