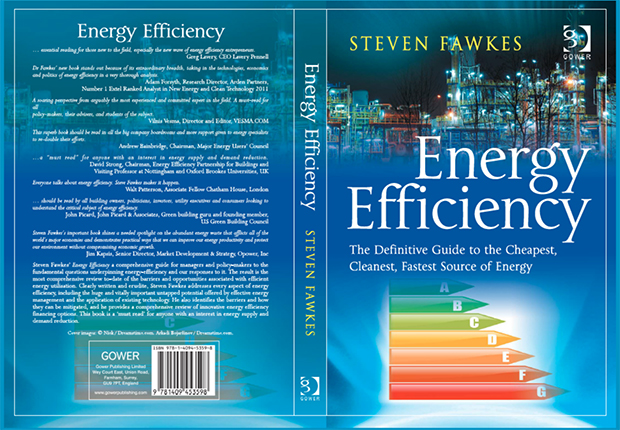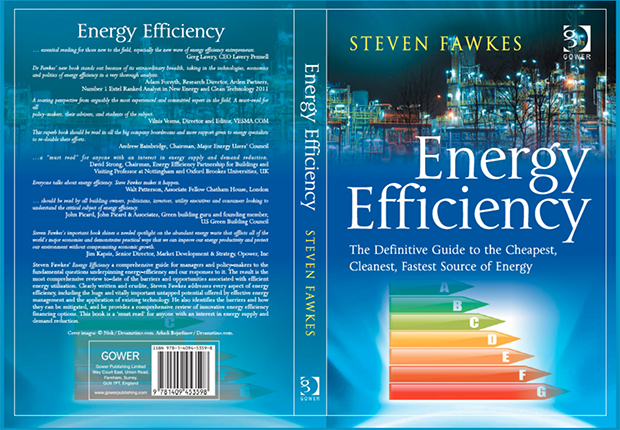 As I have mentioned a few times over the last year I have written a new book, "Energy Efficiency, the Definitive Guide to the Cheapest, Cleanest, Fastest Source of Energy", published by Gower.  Well I am glad to announce that the book has now been released for sale and so it is now available in hard copy and e-book (possibly with a few weeks delay).  The link to the Author's Network form, which gives a 35% discount on the sale price is here.
The book is a wide-ranging introduction to the subject of energy efficiency covering;
What do we mean by energy efficiency?

The global energy system, stresses and strains

A systematic view of the benefits of energy efficiency

The Jevons paradox

Managing for energy efficiency

Technologies for energy efficiency

Designing for energy efficiency

Financing energy efficiency

Energy efficiency policies

Energy efficiency and energy suppliers
It designed for professionals and policy makers with an interest in the subject who perhaps are coming at it for the first time, as well as those already active in the field who want to move beyond a single dimension approach to the problem.  There are many fine texts which go deeper into some of the individual aspects of energy efficiency but very few, if any, which give the wide overview.
One of the main messages of the book is that we have a choice over how efficient our organisations and our societies are, it is not pre-ordained.
Thank you to all those that have been involved in the long process of book writing, especially all those who wrote endorsements, and to Greg Barker, Minister of State at DECC, who wrote the foreword.  Also a big thank you to all the energy efficiency and finance professionals around the world with whom I have interacted over the last couple of years.  They have all contributed to the book in some way.
I hope that you find it interesting and useful and if you do that you spread the word about it.   If you can write a review for a journal, magazine or website let me know as we can get review copies sent out.  I am always happy to receive feedback on it and discuss ideas for the next one.